Publish date: Jan 7, 2020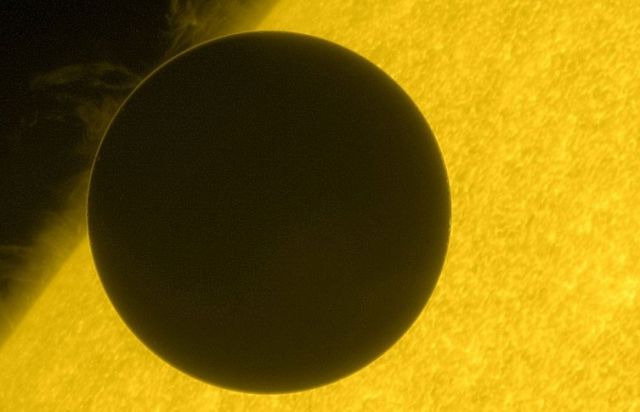 Nobody knows who discovered Venus, our celestial neighbour and the second planet from the Sun, it's been a feature of human culture since time immemorial. Its scientific name is an artifact of the Roman association of the planet, which they called Luciferus, with the goddess of beauty, Venus. In the first half of the 20th century, books like C. S. Lewis' Perelandra would describe the planet as an exotic world bursting with life. The Mariner 2 probe, launched in 1962, would reveal these fictions to be naively hopeful conceptions of the worlds that lie beyond our own.
The Mariner mission revealed that the temperature of the Venusian atmosphere varied between 200°C and 300°C - for some context, that's the temperature inside a pizza oven. In 1967, the Soviets' Venera program resulted in the first successful arrival of a probe into the atmosphere of another world. Venera 4 discovered clouds of sulphuric acid billowing in furious winds that tear through the Venusian equivalent of air; carbon dioxide. There was virtually no water, no oxygen. Just heat, acid, and storms. This was not the goddess of beauty's world, it was an embodiment of celestial rage. In the years that immediately followed, the Venera 7 and 8 missions achieved the first successful landings of probes onto other worlds. The Venera probes were all consumed by Venus' harsh conditions in little time, but they still managed to obtain photographs of the surface. The images below are the original and restored versions of photos taken by the Venera 10 lander, which were published in American publications in a degraded form thanks to a combination of genuine damage and manufactured damage done as part of the anti-Soviet propaganda effort.


The story of Venus took a peculiar turn earlier this year. On 14th September 2020, the Royal Astronomical Society gave an announcement, led by Professor Jane Greaves, that phosphine had been identified in the upper atmosphere of Venus. Prof. Greaves explained why this was something worth knowing:
The reason for our excitement is that phosphine gas on Earth is made by microorganisms that live in oxygen-free environments. And so there is a chance that we have detected some kind of living organisms in the clouds of Venus… I really am talking about Venus!
This is the result of a collaborative effort undertaken by teams in the United Kingdom, United States, and Japan. The scientists from different groups across the world realised that they had a shared interest in the presence of phosphine on Venus and decided to combine resources. The discovery is a wonderful example of how little borders should mean, and it has fascinating implications. However, we must temper any expectations of first contact with alien life. The detection of phosphine is exactly that: we have found a chemical in the Venusian atmosphere and nothing more. It is possible that an unknown and undiscovered chemical process is manufacturing the compound. But it is also possible that precisely what Prof. Greaves implied in the above quote is happening.
What follows is purely the team's speculation, presented in the announcement by Professor Sara Seager, as to what this life might be: We know that Venus is a world scarred and twisted by climate change. It is likely that it was once a wet world, like our own, and perhaps even hospitable to life. We do not know what caused it, but the equilibrium of the temperate Venusian atmosphere was broken by runaway climate change, and Venus became increasingly hell-like. In this time, life may have escaped into the temperate zone of the planet's permanent cloud layer where the temperature and pressures are closer to that of Earth's. This life would exist in the form of microorganisms, which persisted and survived within the rain drops of Venusian clouds. As the clouds precipitate, the microorganism-containing raindrops would descend out of this temperate zone, dry up, and become a form of spore. The process of drying would make this spore lighter and allow it to rise back up into the temperate zone. This would eventually produce a layer of haze, exactly like the one observed in Venus' atmosphere.
A key point here is that our understanding of science is constrained by the conditions we live in. All it takes for something that was previously unimaginable to become tantalisingly real is a suggestion. The slim chance of life surviving on Venus pushed scientists to imagine life that can thrive on a world that is closer to hell than anything else we know. The impossible becomes possible. Whatever we are observing on Venus, be it chemical or biological, it's completely new and beyond our current understanding. And that's fantastic!
Hope and indomitability are two central columns of our history and curiosity with Venus. The hope of not being alone in the universe, and the indomitability of actualising that hope through exploration. Through cooperation across borders and imagining worlds beyond our own we can achieve impossible things.