Publish date: Jan 9, 2020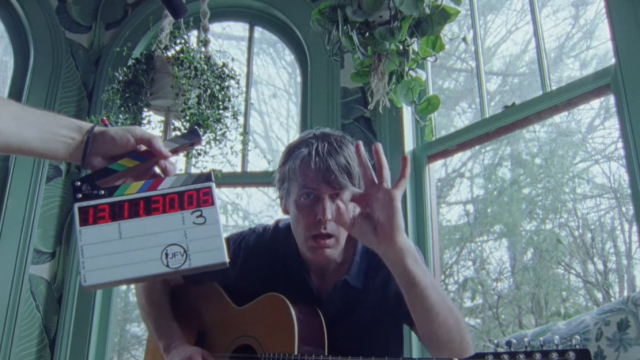 In 2018, Stephen Malkmus released what I rate as a near-perfect album, Sparkle Hard, his seventh with The Jicks. If you know Malkmus, it's likely that you're aware of Pavement. Pavement were a quintessential sound of the 90's, and Stephen Malkmus was the nucleus of that project. I imagine it must be super annoying to have work you produced several decades ago referenced in every new release, so let's move on from Pavement and talk about Sparkle Hard. The album was accompanied by a short film that pieces together interviews with Malkmus, songs from the album, and ridiculous photoshoots. In the film, Malkmus frames the project for us:
If I was to think back about some of the things I did when I was in my twenties; there's vulnerability, but there's… it's more of an unexamined life at that age. I'm beyond just like getting through stuff or putting stuff out because of some compulsion of creativity. I mean, I just try to make it interesting for myself… it has to have a reason.
In an interview with DIFFUS, Malkmus explained that the record was more planned and structured than usual. This comes across in his other interviews done in the press for this album - some of the songs have moments of explicit and pointed meaning, a rare thing for a Malkmus track. The "Freddie" mentioned in Bike Lane is Freddie Gray, an African-American man who was murdered by the Baltimore Police Department in 2015. The telling of this tragedy is accompanied by the repeated words "another beautiful bike lane", all held together by screaming guitar chords at the heart of the song. We see these lyrics play out in our lives regularly: State-mandated violence imposed primarily upon those who aren't white, meanwhile the middle-class occupy themselves with small issues that ultimately mean nothing.
But before we reach Bike Lane, we pass through Solid Silk which immediately precedes it on the album. Solid Silk is incredible, and has no resemblance to Bike Lane whatsoever. It's an inspired combination of Malkmus' relaxed vocals and playful lyricism with violin strings that creates something genuinely transcendent in its serenity. It's an anthem for the Slacker God. In a recent interview with Fader, whilst doing a press tour for his latest album Traditional Techniques, Malkmus claims that it's one of his favourite songs:
I got some input from my producer and he wanted to put strings on there — I wouldn't have thought of that, but it took it to a place I haven't been. […] In terms of arrangements, it goes for more and is something that I'm proud of.
As you progress deeper into the album, it becomes obvious that there is no pattern here. Middle America might be the most popular song on the record, potentially because it sounds a lot like a Pavement track, in particular Zurich Is Stained (by Malkmus' own admission). Regardless, the song sways wonderfully in the breeze of the track's guitarwork whilst the lyrics calmly rebel against a descent into irrelevance "I will not be one of the watchers. I will not disappear". The songs that follow it continue to mix-up structure, we hear auto-tune and wah pedals in the second half of the album. Notably, Kim Gordon, the legendary bassist of Sonic Youth, accepted Malkmus' request to feature on Refute because she thought the song sounded fun.
What is our, the listeners, the relationship with this album? The only illumination we get on this is from a New York Times interview:
Interviewer: Who decides what a song is about, the writer or the listener?

Malkmus: Definitely the listener does. It's Postmodern 101. It's just fun to know from a trivial sense what the guy meant.
It becomes clear that, as Malkmus alluded to, the people the album is really concerned with are those who made it. The musicians, Malkmus, The Jicks, and everybody else who worked on it clearly revelled in the experimentation involved in making this album. That's why it's so versatile and completely unconcerned with creating a coherent sound or message. Instead of being a weakness, this becomes its greatest strength - Sparkle Hard is an exercise in enjoyment, and I implore you to join in.