Publish date: Nov 18, 2020
CW: Mention of the physical and sexual violence committed during the 1994 Rwandan Genocide.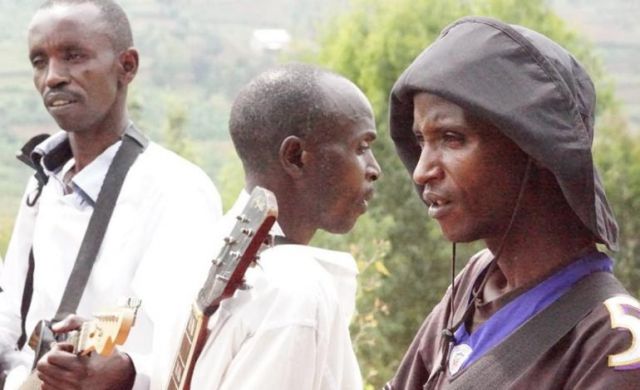 The core members of The Good Ones are Adrien Kazigira, Javan Mahoro, and Janvier Havugimana. Each are a member of the nation's divided social groups - Hutu, Tutsi, and Abatwa. The origins of the former two, Hutu and Tutsi, are incredibly controversial and ultimately a tool used to peddle conflict. Whatever the beginnings of these designations, one thing is certain: during Belgium's colonisation of central Africa in the first half of the 20th century these divisions were intentionally exacerbated by the colonisers. Racist and baseless theories involving phrenology, faith, and cattle ownership were used to push people into a rigid social hierarchy that facilitated the continuation of Belgium's control over their colony. Rwanda gained independence from Belgium in 1962, becoming another European nation that would flee the African continent leaving the hollow demons that they had embedded into the society's culture.
In 1994, the president of Rwanda, Juvénal Habyarimana, alongside the president of neighbouring Burundi, was assassinated. Government forces reacted by indiscriminately and systematically killing anyone labelled as a Tutsi. All facilitated by the identification cards introduced by the Belgian colonal regime. Over a million people are estimated to have died amidst this genocide, and quarter of a million women were raped. Justice for the crimes committed was sought through the International Criminal Tribunal for Rwanda (ICTR), 93 individuals were indicted including the Prime Minister at the time, Jean Kambanda. The ICTR closed on December 31st 2015.
This is why the composition of The Good Ones is important. These musicians have come together across social divisions to heal the damage done to their people. Their name is a monument to this: It was an active attempt to seek out "the good ones" after having endured and witnessed unthinkable horrors. Their 2019 album, RWANDA, you should be loved, arcs through sombre tragedy and deep expressions of love, and throughout it all is sincerity. There is little artifice here. The band members are workers in the local agricultural district, much of the percussion in the album was created by the tools that were to hand on Kazigira's farm - where the album itself was recorded and where Kazigira hid during the genocide. It's difficult to communicate the circumstances of this album without coming across like a well-meaning but ultimately unhelpful celebrity in a festive charity ad: A white man in a branded white t-shirt gesturing at "Africa" and lamenting its "tragedy". We should let the music speak for itself and for The Good Ones, so let's do that.
The songs in RWANDA, you should be loved are sung in one of Rwanda's native tongues, Kinyarwanda. Only the song titles have been translated to English, an artefact of this is that they read like prose. Within the tracks, The Good Ones pursue a kind of African bluegrass that's imbued with the Kinyarwanda language. A few musicians who you may be familiar with feature on this album: Tunde Adebimpe, Nels Cline, Corin Tucker, and Kevin Shields. Their presence is subtle, and rightly so. These featured artists can only be detected by an extra instrument chasing the melody or an unfamiliar adjustment in composition. For instance, Kevin Shields features on A Long, Sad Journey Watching You Die. Despite the devastating title, the song gently ebbs and flows in an uplifting way thanks to Shields, who plays the swelling keys that lift Kazigira's vocals.
My first pick from the album is Despite It All I Still Love You, Dear Friend, a deeply beautiful song. A video was released by ANTI-Records giving context for the track, which stumbles into life with acoustic guitarwork accompanied by what must be Adebimpe's pitch-perfect whistling. It immediately breathes life into the air. Havugimana begins to play the tambourine, which remains with us through this touching song. Trust me; you'll be charmed within seconds. The next pick is Where Did You Go Wrong, My Love, featuring Nels Cline, who is well known for his work in Wilco. Cline can be heard playing the electric guitar on the track. He adds to the song without tearing the delicate and vibrant fabric woven by The Good Ones as they endeavour to express their Rwanda through this album.
On a final note about this album: in a previous decade this album may have been labelled "World Music". I cannot think of anything more insulting, stupid, and arrogant than calling this album such. It's also an echo of those colonial roots - music within the Global North is perceived as a mosaic of different noises and sound, everything else is just… The World. The entire concept of RWANDA, you should be loved is evidence of how harmful and foolish this is. It's an expression of an intimate relationship between people from a different culture with a nation we perceive from the outside. This is what music is about, showing us the interior and revealing the vibrancy that lies within. This album is a monument to that, and the world is brighter for it. I hate to end on cheese but: Rwanda should be loved, and it clearly is.