Publish date: Jan 1, 0001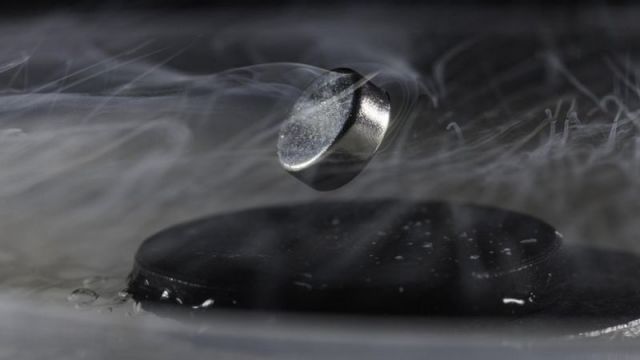 As you read this, electricity is being channelled from its source and into your screen. This source is likely to be a turbine which is spinning in the heart of a generator somewhere, converting the mechanical energy of its rotation into electrical energy. Imagine it happening now. Imagine a hydropower plant like this one. Water is driving a turbine which spins a device called a rotor. This rotor is a disc with magnets fitted on its circumference. As the rotor spins so do the invisible magnetic fields generated by these magnets. The rotor sits inside a stationary shell, called a stator. As the magnetic fields move, they jostle and move the electrons sitting inside the conductive metal fitted within the stator, we'll call them conductors. The more the rotor moves, the more the electrons are moved. This movement is called a current. The electrons in the conductor generate an invisible electric field that now surrounds the wire. As these fields begin to move, perhaps travelling down a wire, they become the physical phenomenon known as electricity.
Electricity travels from the stator, through the power station, along hundreds of miles of cables and wires, and enters your computer. Once it has done its job, allowing you to stare at these words, electrons leave your computer and return to a power substation (this is why there are multiple wires inside a power cable). Electricity must always return to its source, this circular flow is responsible for the term circuit in electronics. If the circuit is broken, electric charge builds up until it finds somewhere else to go - and that's how you get electrocuted.
The ability of electrons to flow through a material is dependent on its conductivity, which describes how well it conducts. Current can be thought of as a stream that flows best when it is unobstructed. In this way, it's intuitive that a material is most conductive when is has an ordered structure, few impurities, and when the electrons within are weakly bound to the atomic nuclei of whatever chemical substance the material is made from. The opposite to conductivity, resistivity, quantifies the amount a current is inhibited by a material. This inefficiency manifests itself as heat, which will emanate from the conducting material. We have now laid the groundwork to understand superconductors.
Heat makes things move. It's why the water in your kettle boils. When a conductor is heated, the atoms it is made from will move, which impedes any current that is flowing through the material. If a conductor is cooled down then we observe resistivity decreasing. As the temperature draws near to its lowest possible value, absolute zero, the resistivity becomes zero. The point at which this happens is known as the critical temperature. However, this isn't the only thing we observe. Now that there is no heat loss, a current can flow through the conductor indefinitely. Strange things begin to happen: our conductor has entered a new state, it has become a superconductor.
Remember when the magnetic field of the generator's rotor created a current in the conductors? This is known as induction. Likewise, the induced current will also produce a magnetic field which is opposite to the original. With a superconductor the induced magnetic field is equal to the field being applied such that they are cancelled out. The manner in which this happens is complicated and leads to a complete expulsion of magnetic fields from the interior of the superconductor. This is not simply a result of perfect conductivity, it's the uniquely weird behaviour of the superconducting state. This is the Meissner effect, and is shown by the image above. The Meissner effect means that if I place a magnet on top of a conductor, which I then supercool, the magnet will begin to levitate. This levitation will continue for as long as the conductor is in a superconducting state.
Superconductors open a door into the development of technologies with frictionless components: Maglev trains utilise the levitation generated by the Meissner effect to create trains that float above their tracks. Another physical phenomenon of superconductivity provides additional control: Flux pinning allows for components to be fixed in space - this ensures that the maglev train cannot deviate from the path set for it. Maglev trains are more efficient, can travel faster, and are easier to maintain than traditional trains. They are undoubtedly the future of public transport. Where else can we use superconductors? The high conductivity allows for a high current and therefore incredibly strong magnetic fields to be generated. This is why superconductors are used in MRI machines, the strong magnetic fields can align the Hydrogen atoms and supercooled devices called Josephson Junctions can detect the delicate changes in the atoms.
The main issue with superconductors is how cold they need to be. It's difficult and costly to maintain materials in a superconductive state. For instance, the superconducting components of an MRI machine are fed supercool liquid helium, which is expensive and requires heaps of insulation. For this reason, materials that can achieve superconductivity at "normal temperatures", what physicists often call room temperature, are sought after. And, at long last, this brings me to the paper at the heart of this article: Room-temperature superconductivity in a carbonaceous sulfur hydride by Elliot Snider, Nathan Dasenbrock-Gammon, Raymond McBride, et al. Let's quickly breakdown the results of the paper and its implications.
Firstly, what is Carbonaceous Sulfur Hydride? The sample used in the experiment was created by pressurizing a mixture of Methane and Hydrogen with Hydrogen Sulfide. Hydrogen Sulfide is often produced by microbes during the decomposition of organic matter and its (partly) responsible for the gross smell produced by rotten eggs. The pressure required to synthesize the Sulfur Hydride is three quarters of that experienced at the centre of the Earth. This material achieved superconductivity at an astonishing 15 degrees Celsius. That's the equivalent to the superconductor functioning on a very pleasant autumn day.
What are the implications of a room-temperature superconductor? The power infrastructure I discussed earlier could become super efficient - no losses through heat. Frictionless components, such as those used in Maglev trains, become a far less exotic technology, and who knows where the supreme control over magnetic fields could lead. And finally, sensing equipment - be it medical or otherwise - would become far less expensive and cumbersome. So can we expect to see levitating cars hovering above Sulfur roads in the immediate future? Sadly not. If Sulfur Hydride is left outside its pressurized conditions for too long then the material will decay. This is a clear limitation of Carbonaceous Sulfur Hydride and something that shall have to be overcome if its ever to be used. BUT, it is progress. Perhaps it won't be Sulfur, but we have made huge leaps towards synthesizing a practical superconductor that functions in normal conditions and, hopefully, is inexpensive.
Now we've established the basics, I might build on this contemporary superconductivity in an article later on if folks are interested.